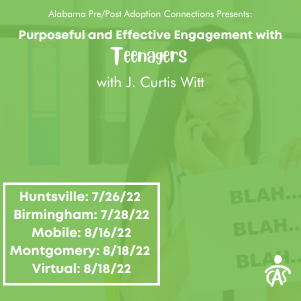 Purposeful and Effective Engagement with Teenagers (Mobile)
Event Date: 08/16/2022
Event Time: 09:00 AM - 04:30 PM
Event Type: Live In-person
Total CE Credits: 5.5
Clinical Hours: 5.5

General Admission: $0 CE Cost: $55
This webinar has already ended.
Description
The frustration of interacting with teens is exacerbated when normal teenager behaviors are compounded with the impacts of displacement and personal trauma. Their history of abuse and long-standing mistrust of adults reaches much deeper than one would expect from their short, young lives. How do you get through all of that normal teenage behavior to help and guide them when the normal is layered with mistrust, anger, and trauma?
This day-long training provides vital insights to answer that question while offering practical tools to use in your work and relationship with teens.
Speaker & Bio
J. Curtis Witt
Jack specializes in the social/emotional development of people. He writes, provides assessments and training for organizations, and speaks at regional and national conferences on subjects relating to his personal mission: Helping people live better together.  Jack created and currently directs a youth life-coaching intervention called Elevate Youth Solutions which focuses on the social/emotional development of at-risk students on elementary, middle, and high school campuses. He has a master's degree in Strategic Leadership, is an ICF-certified academic life coach, and is also an Institute of Social-Emotional Intelligence coach.
Location
History Museum of Mobile (2nd Floor)
Itinerary
Schedule
8:30-9am: Check-In
9am-4:30pm: Training
lunch on your own
We will explore the following three frameworks: 
1. Engaging in the Social-Emotional Development of Teenagers 
Teens need the active participation of adults to help them navigate through the relational and emotional maze of adolescence to a healthy and stable adulthood. That participation, as you well know, is tricky, complicated, and mostly unwelcomed. To some degree, it's easy to understand the parents who give in to the demand for independence and give up trying to engage, influence, and guide their teenage children. It's not just hard work, it's hard to know what in the world to do.
In this training section, Jack dives into the research related to the emotional, behavioral, and cognitive development of teens. He extracts practical understandings and useful pathways that will help you participate in their social-emotional development rather than feeling like you are sitting helplessly on the sidelines.
Key takeaways from this section include:
Insights on child development stages and ways to focus on missing competencies 
How your self-awareness improves your ability to help a teen cultivate theirs
Understanding the power of perception and how to effectively navigate them
Why managing expectations is more effective than applying fixes
2. Increasing Engagement through Coaching Conversations
The common mistake we make when a teen goes silent or offers the redundant "I don't know" is to assume that what they need is information. Despite the dismal results of telling teens what they ought to think and do, adults persist in this activity because we don't know what else to do to engage with them. Jack has seen great results by teaching parents, foster parents, therapists, educators, athletic coaches, youth directors in religious organizations, teacher aides, and social workers to have coaching conversations with teenagers.
In this highly interactive training, he presents the three doorways coaching accesses to attain a higher level of connection with teenagers and help them grow in adult thinking and problem-solving. 
Key takeaways from this section include:
A clear concept of what coaching is and why it works (with everyone)
25 coaching questions that you can immediately use
A framework we will practice that prepares you for effective conversations with teens
3. Navigating Around the Eggshells – Interacting with Traumatized Youth
The incidents of childhood trauma are increasing at alarming rates. The substance abuse and mental health services administration documents that over 60% of children report at least one traumatic event by age 16. The effects of trauma present unique challenges for anyone interacting with youth, especially those classified as at-risk, displaced, or disadvantaged. 
This section of training provides an understanding of trauma in layperson's language and offers helpful insights on ways to have positive, low-triggering interactions with teens.
Key takeaways from this section include:
Identifying and understanding trauma-based behaviors
Ways to provide environments of predictability and continuity
Expecting and contextualizing overreactions
Knowing your limits and collaborating with professional interventions