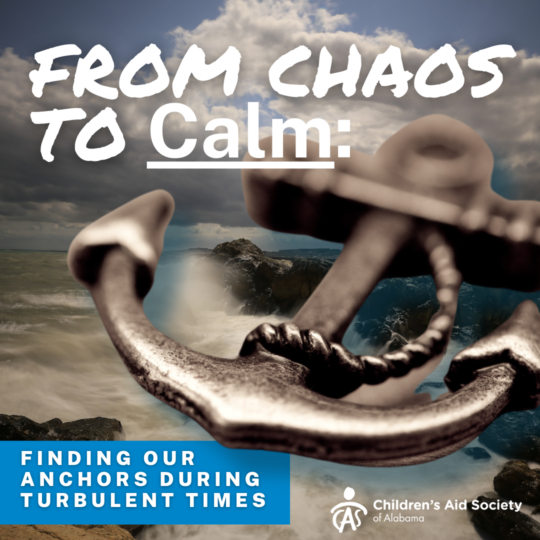 From Chaos to Calm: Finding Our Anchors During Turbulent Times (Virtual)
Event Date: 08/24/2023
Event Time: 09:00 AM - 04:30 PM
Event Type: Live Virtual
Total CE Credits: 5.5
Clinical Hours: 5.5

General Admission: $0 CE Cost: $55
This webinar has already ended.
Description
Stress is universally recognized as the primary risk factor for health issues, impacting professionals and parents alike and potentially leading to burnout. It often feels like work-related stress is unavoidable, and we must simply accept the challenges inherent in fields characterized by trauma and chaos.
But what if serving individuals facing loss, fear, trauma, and other adversities didn't have to result in personal wear and tear? What if there were ways to navigate these circumstances without experiencing the negative effects ourselves?
Join us as we welcome back author, trainer, and consultant Jules Alvarado as she walks us through an in-depth masterclass on how to go from chaos to calm and find our anchors during turbulent times.
Speaker & Bio
Jules Alvarado
Jules Alvarado comes to you with 25 years of experience in system transformation. Through Emotional Regulatory Healing©, she combines the latest research in neuroscientific findings with ancient healing methods and teaches powerful parenting, therapeutic, educational, and organizational paradigms that are transforming first responders, individuals, families, schools, and entire agencies. Jules brings the highest keynote, lecture, and consultation reviews from around the globe. Motivationally charged and energetic workshops keep participants coming back time after time! Ms. Alvarado has provided treatment foster care for severely wounded children for 20 years. She is a therapist and consultant well-known internationally as an expert in trauma, loss, attachment, and organizational effectiveness. Jules has served on the boards of and as the executive director for several child welfare agencies and is the founder and Sr. Clinical Consultant of Alvarado Consulting and Treatment Group, an organizational consulting business in Denver, Colorado.
Itinerary
Topics include the following:
What is Trauma, REALLY?
An Introduction to Emotional Regulatory Healing and Mindful Trauma-Informed Care
A shared mental model and global language in the healing of trauma
Neuroscience Made Simple; The Impact of Trauma on the Brain;  Secondary Trauma
Becoming the wise conduit to healing
Emotional Regulation vs. Emotional Dysregulation: A neurophysiological perspective
The Brain is the Boss of Behavior: Change the brain, change behavior; But, HOW?
A Paradigm shift in Practice/Parenting/Treating; From Behavior Modification to Stress Modification
Holding Space, What does that mean anyway?
Competency: Those who complete this training, will understand the following more deeply:
Emotional Regulatory Healing and the impact of attachment challenges
The effect of trauma on regulatory and attachment systems
The effect of early trauma on adult attachment and why that matters
How to assess for regulatory dysfunction and attachment challenges
How to advocate for effective and efficient treatment for this population
How to respond more effectively to problematic social/emotional/behavioral presentations by clients
Means for achieving self-regulation and creating the opportunity for co-regulation
Learning Objectives: Those who complete this training in Emotional Regulatory Healing, will be able to do the following:
Define Emotional Regulatory Healing and be competent in articulating ERH as their TIC paradigm
Be prepared to provide procedures for minimizing the impact of toxic stress and trauma on attachment and regulatory functioning of self and client.
Be capable of describing various intervention techniques currently used to treat emotional regulatory dysfunction effectively.
Be capable of teaching the basics of Emotional Regulatory Healing to others