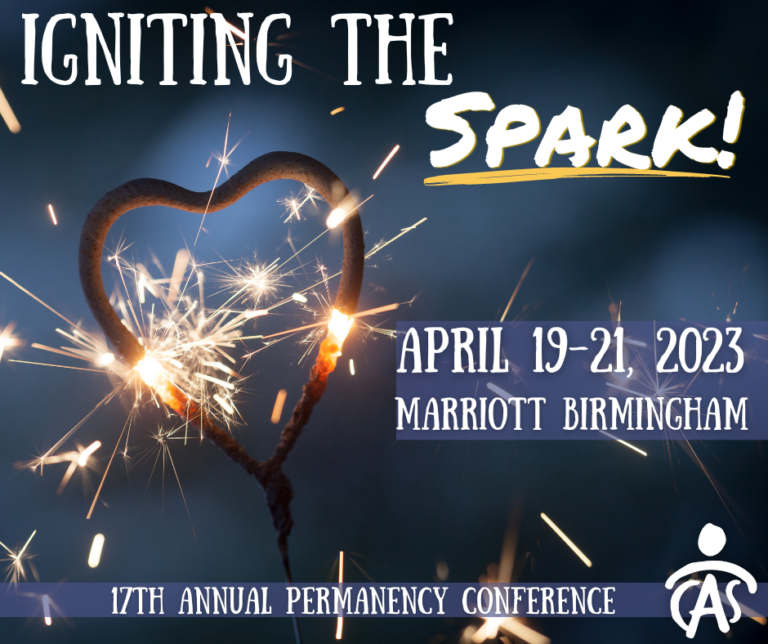 17th Annual Permanency Conference: Igniting the Spark
Event Date: 04/19/2023 - 04/21/2023
Event Time: 10:00 AM (04/19/2023) - 11:45 AM (04/21/2023)
Event Type: Permenancy Conference
Total CE Credits: 13
Ethics Hours: 3

General Admission: $249 0% discount
(if registered before 02/28/2023)
This webinar has already ended.
Description
APAC coordinates an annual statewide Permanency Conference in collaboration with the Alabama Department of Human Resources to bring 3 days of focused training on meeting the range of needs of foster and adopted children and their families. This conference is for anyone who serves foster and adopted children in any capacity and is perfect for DHR staff, service providers, and clinicians, as well as foster and adoptive parents.
The overall purpose is to provide a rich experience where participants can take part in relevant, engaging, and practical workshops to help participants feel more confident and hopeful for the work they do. We strive to provide this conference in a relaxed setting with self-care opportunities so participants feel appreciated and re-energized as they return to serving our most vulnerable populations.
We are offering 13 contact hours for social workers and counselors which include several clinical hours and 3 hours of ethics. Most workshops will also qualify for clinical hours too!
Location: 
Marriott Birmingham, 3590 Grandview Parkway, Birmingham, AL 35243
Speaker & Bio
Itinerary
Click HERE for a copy of the Agenda!
See the general times below:
Wednesday, April 19
10:00 am Registration/Conference Check-In
11:00 am - 12:00 pm Lunch
12:00 - 1:15 pm Opening Session
1:30 - 4:45 pm Workshops
Thursday, April 20
7:30 am Breakfast
8:30 - 11:45 am Workshops
11:45 - 1:30 pm Lunch on your own
1:30 - 4:45 pm Workshops
Friday, April 21
7:30 am Breakfast
8:30 - 10:00 am Plenary Session
10:15 am - 11:45 am Closing Session